---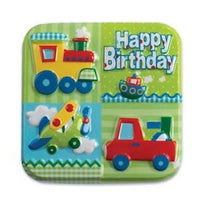 Cake "Pop Top"
This piece is a 5.5" square
Train, Helicopter, Truck
This textured plastic decoration adds dimension and style to any cake in seconds! Simply place your Pop Top Cake Decoration on any homemade or store-bought iced cake. Get creative with candles, sprinkles, and icing designs for even more decoration.